We are staffed to serve you Monday through Thursday 8:00 am to 6:30pm. Fridays 8:00am to 3:00pm.
Welcome to this one-stop to connect with us virtually. All of our Student Services departments have personnel to answer your questions.
Your first stop is our Virtual Welcome Center where we can answer general questions. If you require information that is specific to your records and applications, you will be referred to those specific departments. We ask for your patience as there is a high volume of calls.
Even if you know which department you are seeking, we ask that you begin in the Welcome Center because our representatives will be able to give you a comprehensive overview of which departments will best answer your specific questions.
Technical Requirements
You can login to our lobby with MySWC, Google, Facebook, and a Guest Registration. Students, be sure to login with MySWC so we know it's you! Most browsers can use the lobby without downloading an application, but for the best experience please use Chrome or Firefox.
If you would like to use your webcam and microphone during your meetings be sure to read the following.
MAC users: Using Chrome or Firefox is required. Make sure you unblock your camera and microphone before you meet with us. At this time Safari is not supported.
IPHONE/IPAD users: Please download and sign into the CONEXED app through the app store.
You can test your setup by using the Pre-Meeting check.
Virtual Chat - Connect with us using Cranium Café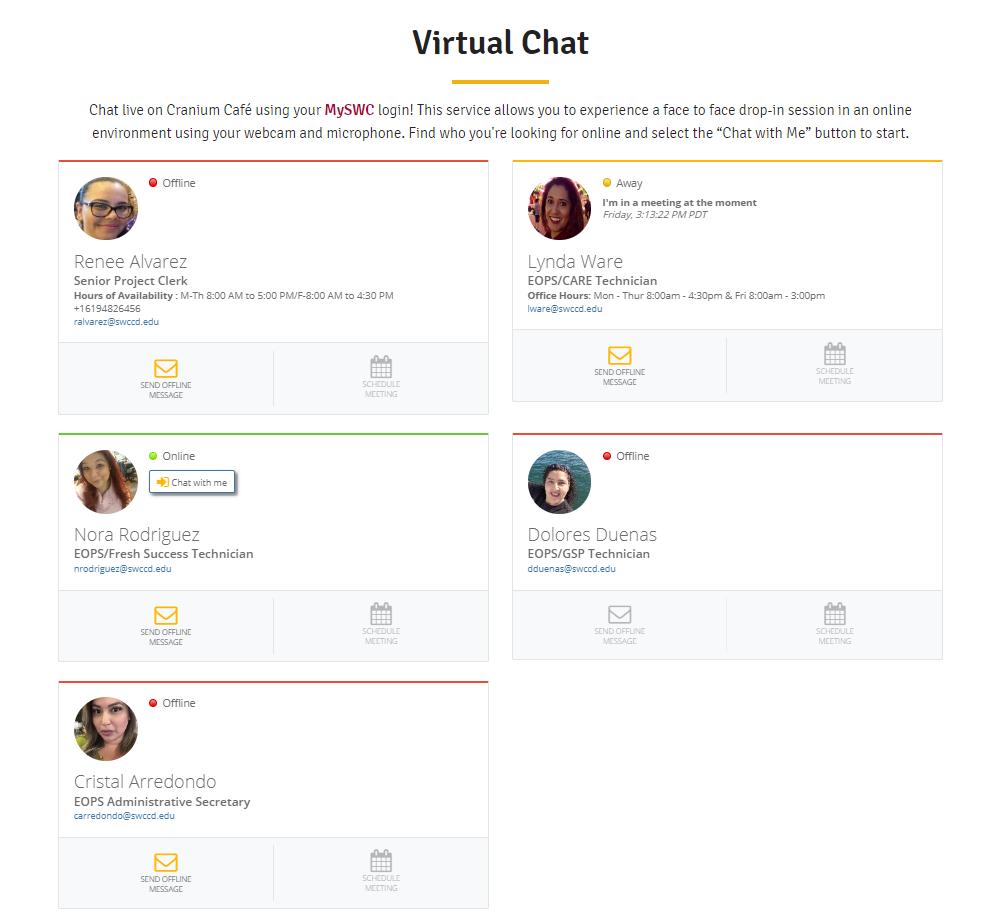 Student Services is also available for live chat and video meetings. Find an online staff/faculty member, click "chat with me," sign in and begin your chat.
Applicants: Haven't applied yet but would like to talk to us? Use facebook, google, linkedin, or a create a conexed login and ask away.
Current/Returning Students: Use your MySWC login so we can verify it's you!
We recommend the following to use this service:
Know your MySWC login. If you do not have a login or SWC ID, please consider applying to the college.
All PCs, Laptops, Macbooks, as well as Android devices are compatible but will require you to use Chrome or Firefox. At this time Safari will not work.
Apple iOS users (iPhone and iPad) must have the ConexED iOS app installed and logged in prior to starting a video chat.
Use this service in a quiet and private environment.
Participating Departments
Below are the departments currently using Cranium Café. Look for the Virtual Chat section on each webpage to start a chat with us.
Student Guides
Check out the guides below to learn how you can talk with our staff and faculty.
JagBot