SWC Commencement Ceremony 2023
The 62nd Commencement Ceremony will be held on Friday, May 26, 2023 at the DeVore Stadium.
10:00AM Ceremony
School of Business & Technology
School of Wellness, Exercise Science, & Athletics
Major/Program/Degree from HEC Otay Mesa
Major/Program/Degree from HEC National City
Major/Program/Degree from HEC San Ysidro
4:00PM Ceremony
School of Mathematics, Science, & Engineering
School of Language, Literature, & Humanities
School of Arts, Communication, & Social Science
Three Steps to Participate in the Ceremony
Student must PETITION to graduate through the Evaluations website, www.swccd.edu/evaluations
Student must REGISTER to participate in the ceremony. Registration starts March 15, 2023 to April 15, 2023. Students eligible to participate will receive an email invite to attend the ceremony.
Student must ATTEND Gradfest. Student can pick from any of these Gradfest dates below.
GRADFEST Dates & Times

| Dates | Location | Time |
| --- | --- | --- |
| April 18 – Tue | HEC San Ysidro | 10am - 2pm |
| April 19 – Wed | HEC National City | 10am - 2pm |
| May 3 - Wed | HEC Otay Mesa | 11:30am - 1:30pm |
| April 25, 26, 27* – Tue, Wed, Thurs | Chula Vista Campus Bookstore | 10am - 6pm |
*A Professional photographer will be available at the Chula Vista Campus Bookstore to take professional photos of you, and/or with your friends. No sitting fees. The bookstore will also be selling commencement items such as stoles, announcements, diploma/picture frames, and unique gifts.
Starting May 1, 2023, students can check out the ASO Cap & Gown Lending Program. Eligible students with financial need must fill out this form. Upon verification of eligibility, student will be emailed as to when Cap & Gown are ready for pick up from the Office of Student Activities, Rm. 62A-114.
Commencement Q&A Sessions
For any COMMENCEMENT related questions, please attend one of the Commencement Q&A sessions via Zoom ID No. 6464123131:
Commencement Q&A Sessions

| Date | Time |
| --- | --- |
| February 22 | 12pm - 1pm |
| March 7 | 5pm - 6pm |
| March 23 | 12pm - 1pm |
| April 6 | 12pm - 1pm |
| April 17 | 5pm - 6pm |
| May 1, 8, 15 | 12pm-1pm |
For more information, please check out these Commencement 2023 flyers.
For any Commencement Ceremony related questions, please contact Jenny Davis, jdavis5@swccd.edu.
For any Degree or Diploma related questions, please contact the Evaluations Office, evaluations@swccd.edu
Affinity Group Graduation Information
Binational/Fronterizo Commencement Ceremony in Tijuana
For the first time this year, Southwestern College is pleased to celebrate our class of 2023 with a ceremony in Tijuana, Mexico, at Preparatoria Federal Lazaro Cardenas (PFLC).
Eligibility: If you are eligible to participate in the Commencement Ceremony at the Chula Vista Campus, you can also participate in the Ceremony in Tijuana.
Location: Preparatoria Federal Lazaro Cardenas
Date: June 15, 2023
Time: 3:00 PM
Guests: Participating students will receive a link to the online reservation system to secure tickets. Students may reserve tickets for as many guests as they wish.
Transportation: All students and their guests are responsible for their own transportation, to and from Preparatoria Federal Lazaro
Cardenas (PFLC). SWC will not provide transportation.
Parking: Each student will receive 1-2 parking passes for PFLC Parking Lot. Public and street parking will be available in the surrounding areas.
Can I attend the event in Tijuana only? No, we recommend attending both graduation ceremonies (Chula Vista and Tijuana).
Cap and Gown: Students will use the same cap and gown at the Chula Vista and Tijuana ceremonies.
Diploma Presenters: SWC President and Governing Board members will be there to present your diploma to you.
Is the ceremony open to the public? Yes, SWC students and other guests may attend.
For questions about the Binational/Fronterizo Commencement Ceremony in Tijuana, please contact Joel Pilco, jpilco@swccd.edu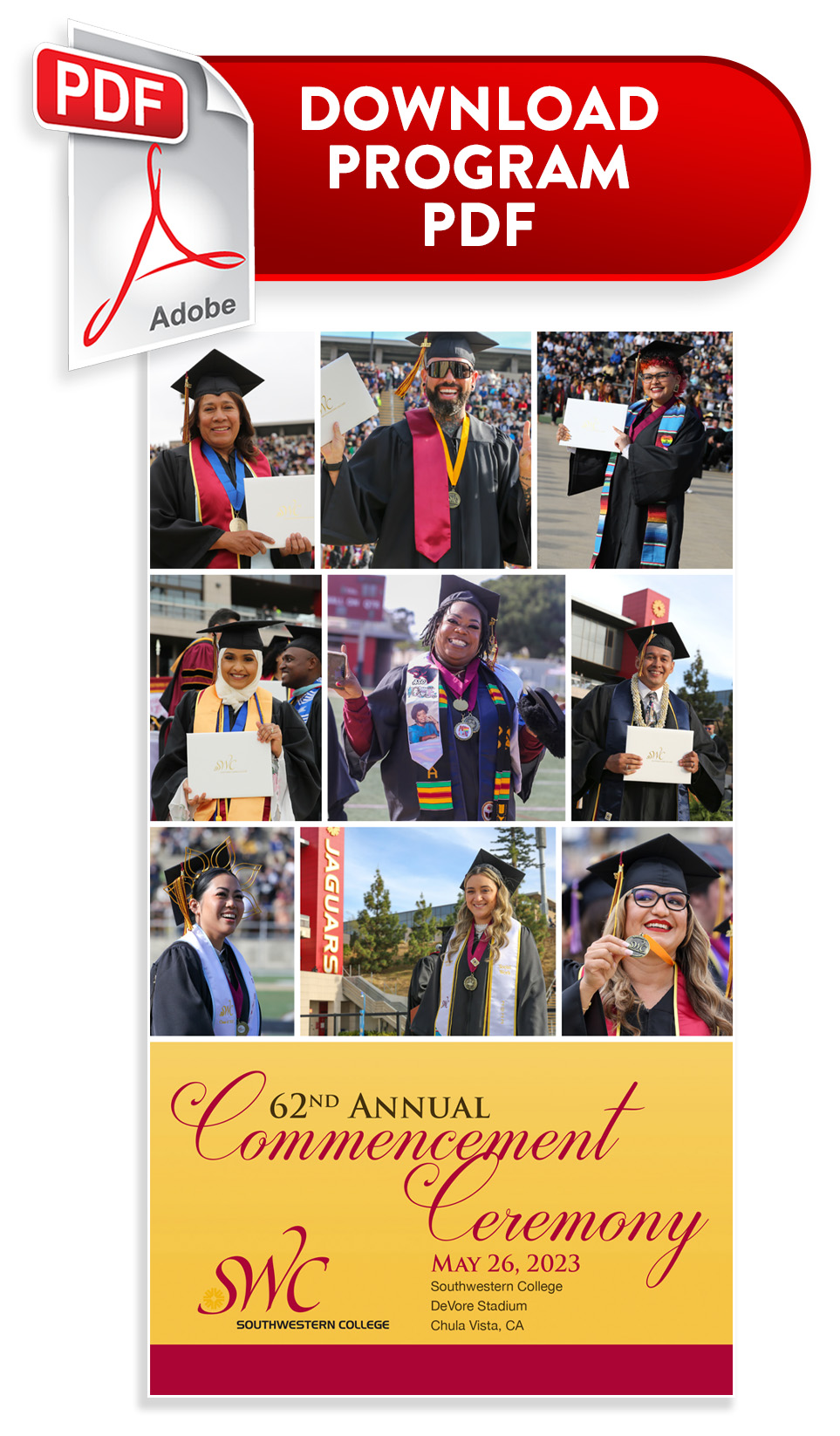 Past Commencement Ceremonies