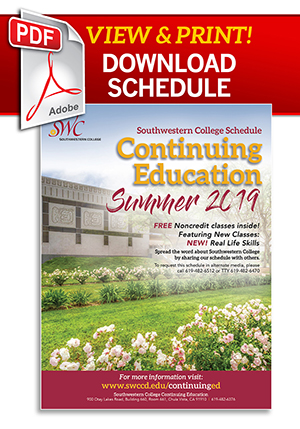 Southwestern College is pleased to offer our South County residents and business community a wide variety of interesting courses and programs through our Continuing Education Office.
Continuing Education provides students with extended studies designed to support professional advancement and personal success. Day, evening, and weekend classes are conveniently held at the Chula Vista campus, as well as off-campus locations throughout South County. There are no transcripts or grades, many are tuition-free, while others require a nominal fee.
We look forward to partnering with you to meet your life-long learning needs.
Course Categories
Art, Music, and Crafts
Crown Cove Aquatic Center
CPR, Health and Safety
Computers
Career and Professional Development
Family and Parenting
Financial Planning
Home and Entertaining
Self Improvement
Traffic School
Wellness and Fitness
Continuing Education Navigation
Follow the link above for steps to register for a fee class.
Follow the link above for steps to register for a noncredit class.
Download Course Schedule (PDF)
Get In Touch
Monday - Friday
8:00am - 4:30pm
Saturday - Sunday
Closed
Summer Hours
Monday - Thursday
8:00am - 5:00pm
Friday - Sunday
Closed
Continuing Education
Room 661
900 Otay Lakes Road
Chula Vista, CA 91910