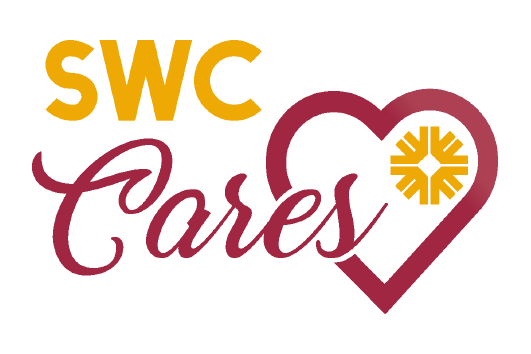 SWC Cares is a collaborative effort and many of the services (including the Jag Kitchen and SWC Cares Grant) depend on the support of our college community. If you would like to be a partner in providing these services to our students, join many of your colleagues and sign up for Jaguars Give.
At Southwestern College, we believe in providing a supportive learning environment for students. SWC Cares is a campus-wide initiative that centralizes the diverse services and resources we provide in one location.
If you or someone you know is having an emergency, contact College Police immediately at x6691 (from a campus phone) or (619) 216-6691 (from off campus).
SWC CARES Emergency Grant
The SWC CARES Emergency Grant Application is now open for SWC students!
The Southwestern College Cares Grant was created by the Associated Student Organization (ASO) and the Southwestern College Foundation to provide assistance to students at risk of dropping out of college due to unexpected financial emergencies.
Who is Eligible to Receive a SWC CARES Emergency Grant?
During the COVID-19 pandemic, the SWC Cares Grant is open to providing financial assistance for normal, everyday expenses that are ongoing, as well as those as a result of an emergency. These funds are also available for undocumented students. Students must be currently enrolled in Spring 2020 and/or Summer 2020 to apply. Funds are limited and based on current funding availability.
How Do I Apply?
Complete the SWC CARES Application (login with MySWC). These funds will be available on a first come, first served basis for eligible students.
When & How Will I Receive the Funds?
Allow at least 7-10 business days for review. Notifications will be emailed to the student's SWC email address for updates, so please be sure to check it regularly.
Other Questions?
Please review the resources available in the Federal Emergency Relief Grant FAQs (Frequently Asked Questions).