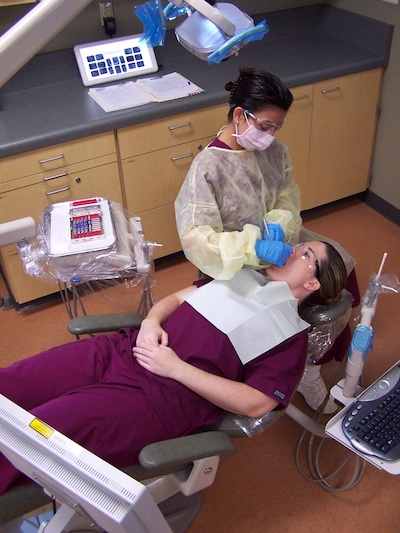 The Dental Hygiene Clinic at the Higher Education Center at National City serves as an educational facility to support the clinical learning needs of the students enrolled in the Dental Hygiene Program. Under the supervision of licensed dentists (DDS/DMD) and registered dental hygienists (RDH), the dental hygiene students provide oral health care education and dental hygiene services to the general public along with the Southwestern College community, including students, faculty, and staff.
The Dental Hygiene Clinic is a teaching facility, therefore, care/treatment is offered only to individuals that meet the appropriate patient criteria for student learning; not all patients will qualify to receive dental hygiene services:

Patients must:
Be free of medical or dental conditions that would make treatment hazardous to patient or operator.
Have oral and behavioral conditions that are considered acceptable for student learning.
Have interest in learning preventive oral hygiene techniques.
Cooperate in keeping clinic appointments on time.
The clinic supervisor reserves the right to refuse or discontinue treatment when indicated. For a complete understanding of patient's rights and responsibilities, please refer to the document below.
For information on how and where to obtain low cost dental service in San Diego, call 211 to get information on a wide variety of services available in San Diego county.
Services Provided
The following services may be provided by dental hygiene students under supervision in the Dental Hygiene Clinic:
Blood pressure screenings
X-rays
Oral cancer screenings
Pit and Fissure Sealants
Adult/Child Cleanings
Preventive Dental Education
Topical fluoride treatments
Periodontal scaling and root planing (with limitations)
Polishing of amalgam fillings
Dental nutritional counseling
Other related therapeutic services
The Southwestern College Dental Hygiene Clinic does not provide a comprehensive dental examination for patients nor does it provide restorative dentistry (fillings/crowns), oral surgery (extractions), periodontal surgery or orthodontics (braces). It is highly recommended that all patients arrange an appointment with a dentist of their choice for a comprehensive examination, diagnosis, and treatment as indicated.
For assistance in locating a dentist or community clinic, please refer to the websites below:
Clinic Schedule & Hours
As a college program and teaching facility, the Dental Hygiene Clinic operates on a semester system, based on the Southwestern College academic calendar.
Summer Semester
June - July
Fall Semester
August - December
Spring Semester
January - May
The clinic is closed on all major holidays and also for Winter Break, Spring Break and part of the summer months.
Please be advised that the Dental Hygiene Clinic has no receptionist. Messages left of the clinic phone are checked daily. Students schedule their own appointments, however keep in mind that students also have lecture courses to attend.
We appreciate your patience in awaiting a response for clinic services.
Get In Touch
current patients
(619) 216-6663
Leave a message on the clinic voicemail with your Dental Hygiene student's name, your full name and contact information.
880 National City Blvd
National City, CA 91950