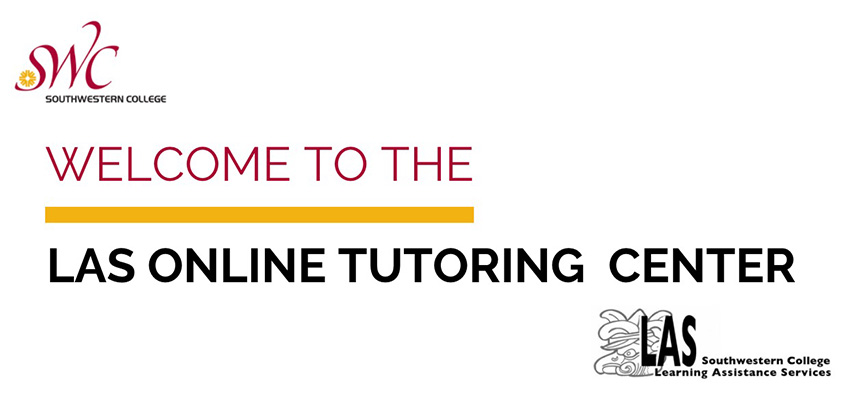 SWC Online Tutoring Services for Spring 2021
If you need assistance and would like live online SWC Tutoring, please access our live Zoom room.
For an appointment for SWC Tutoring, go here to access our online appointment system.
Spring 2021 Tutor Schedule now available as a PDF.
Southwestern College tutors available Monday through Thursday, 10:00 a.m. to 7:00 p.m. and Friday from 10:00 a.m. to 6:00 p.m.
eTutoring
For live eTutoring and weekly eTutoring schedules, go here to access our eTutoring login and schedule.
eTutoring available 7 days a week, including most holidays.
Online Writing Lab (OWL)
To submit work to OWL, go here to access instructions and the OWL submission form.
Tutoring Services for Spring 2021
Learning Assistance Services (LAS) continues to offer services entirely online for the Spring 2021 semester.
LAS remains dedicated to providing SWC students with quality tutoring that focuses on promoting student success by helping them develop effective learning skills. Our program is peer based, relying on current and former SWC students who serve as allies as well as exemplars. SWC tutors are selected for their ability to work effectively with their peers as well as their content knowledge.
Faculty & Staff for Online Tutoring Services Spring 2021
Get In Touch
Meet the faculty and staff that you'll work with at the Chula Vista campus.
Academic Success Center, Building 26
900 Otay Lakes Rd
Chula Vista, CA 91910