Associated Student Organization (ASO)
The Associated Student Organization (ASO) of Southwestern College is the official recognized voice of the college's 22,000 students. The organization offers a unique opportunity for students to gain both leadership and communication skills while also being able to meet new people and learn the basics of parliamentary procedure.
"We, the students of Southwestern College, in order to provide a student government committed to effective student participation in all areas of student concern; that we may through independent action and in concert with other constituencies of the college community, participate in the formation and improvement of educational programs; protect full freedom of assembly and expression in the college community, articulate and represent student interest in the governance of the campus."
What can you get with the Student Activities Sticker?
The Associated Student Organization (ASO) Student Activities Sticker is a small, $8 fee charged upon enrollment that provides numerous benefits to Southwestern College.
With the Student Activities Stucker, SWC students are eligible to receive discounts both on- and off-campus. In addition, sticker holders possess direct access to some of the college's most beneficial programs and services. Check out free ASO giveaways during the semester.
With your Student Activities Stucker, you are also supporting student leadership and development.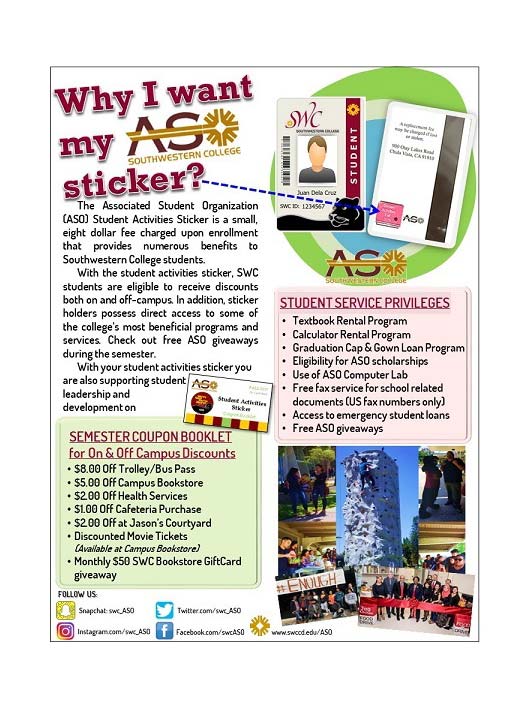 Student Services Privileges
Textbook Rental Program
Calculator Rental Program
Graduation Cap & Gown Loan Program
Eligibility for ASO Scholarships
Use of the ASO Computer Lab
Free Fax Service for School-Related Documents (US Numbers Only)
Access to Emergency Student Loans
Free ASO Giveaways
Semester Coupon Booklet
On- & Off-Campus Discounts:
$8 Off Trolley/Bus Pass
$5 Off Campus Bookstore
$2 Off Health Services
$1 Off Cafeteria Purchase
$2 Off at Jason's Courtyard
Discounted Movie Tickets (available at Campus Bookstore)
Monthly $50 SWC Bookstore Gift Card Giveaway
ASO Meetings For Spring 2019
Per the Ralph M. Brown Act, The ASO notifies the public of all meetings of the Associated Student Organization at least 72 hours prior and all are welcome to attend. The meetings are where much of the work of ASO takes place. Spirited discussions on how to best help our students is commonplace at any meeting and many of these discussions eventually lead to the events and advocacy efforts you see around campus throughout the year.
ASO Constitution
The constitution of the Associated Student Organization is the official governing document of the organization. It consists of the constitution, by-laws and house rules all of which delineate roles and responsibilities for ASO Officers as well as lays out the normal operating policies/procedures of the organization