School of Wellness, Exercise Science & Athletics
Naturally, you'll want to focus on your books when you're in college, but you can also stay fit and healthy by taking classes within the School of Wellness, Exercise Science & Athletics.
Live and Share a Healthy Lifestyle
Our classes are taught by credentialed professionals who can improve your conditioning or teach you a brand-new sport.
While you exercise your mind, don't forget to take care of your body.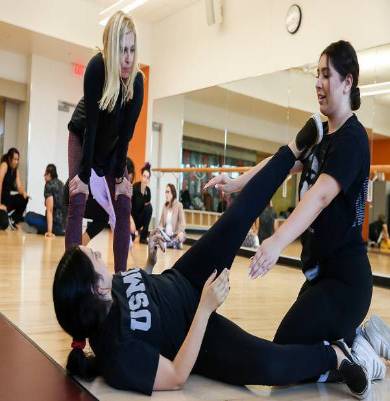 Choose from activity-based classes, or learn how to be a Fitness Specialist.
Learn more about the people who run our athletics and teach our fitness classes.
Athletic Opportunities
Whether you are a participant or a spectator, you have plenty of opportunities to get involved.
Did you know you can learn how to kayak, sail or surf ... all while earning college credit?
Extend your fitness opportunities at the Wellness and Aquatics Complex. Memberships will soon be available for students not enrolled in exercise science classes and community members.
Meet our athletes and keep track of our latest events and sports scores.
Virtual Chat
We are here to support each of our student's needs. Chat live on Cranium Café by finding an online staff member below. To learn more, visit the Virtual Welcome Center. Our student service specialists have their hours of availability listed on their profile cards. If a team member's hours are not reflective of their availability, they are likely supporting another student. We give each of our students the individual attention and time they deserve. Thank you for your patience.
Video chat on Cranium Cafe
Get in Touch With Our School Leaders
Our dedicated staff and faculty members are here to help guide you toward a bright future.