Locked out of your car? Want an escort around campus to feel safer? Read below to learn about our College Police Department's services that may be useful in times of need.
Medical Services
College Police are trained personnel in administering first aid, performing cardiopulmonary resuscitation (CPR), and using automated external defibrillator (AED). In medical emergencies or crises, we can provide medical services to anyone on campus or the surrounding area. Afterwards, we may contact fire and emergency medical services for assistance.
Front Counter Services
The Front Counter of the Police Department is open during normal business hours of 8am to 5pm, Monday through Friday. We can assist you by:
Providing parking information
Paying or appealing parking citations
Providing instructions on navigating the campus
Accepting lost and found property items
See the Parking Services page to learn more about our virtual parking permits and online citation appeal process. Persons can fill out a counter report detailing the loss or theft of minor property items. Front Counter staff members can be reached by calling (619) 216-6611.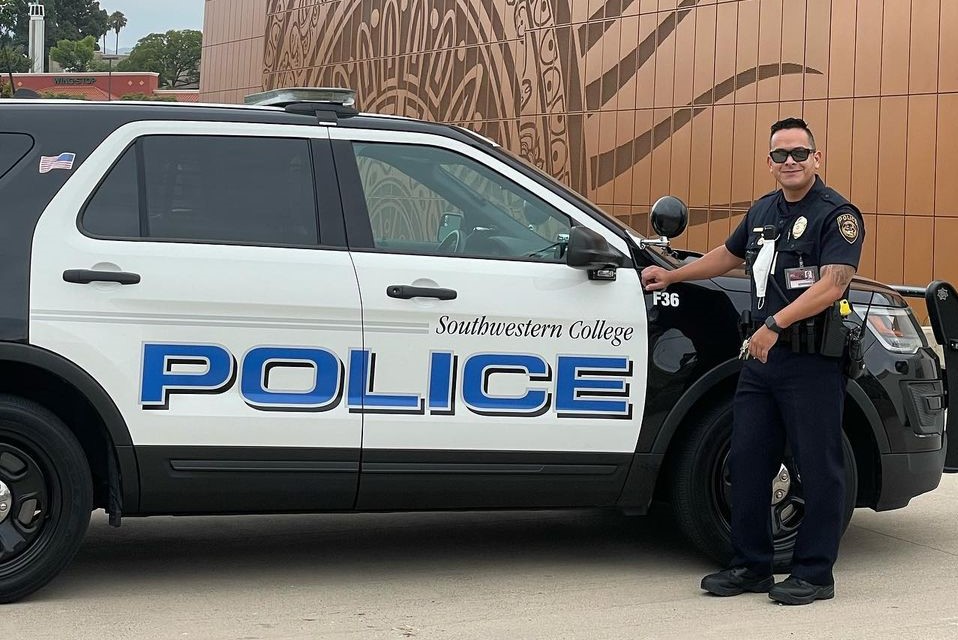 We provide escort services on the District's property, around campus, and to and from the parking lots.
Call Police Dispatch at (619) 482-6380 to request an escort. Keep in mind that officers and other personnel may be assigned other concurrent tasks so there could be a delay in response. Calling ahead of time to request an escort is the best way to avoid delays.
Victim's Services
The College Police Department provides a number of services to support victims of crimes and can tap into the resources of allied agencies and make referrals. Services include:
Providing restraining order information and enforcement
Referrals to domestic violence shelters
Assistance with obtaining mental health care
Working with other college departments to provide accommodations and college-related services
Providing resources and intervention for drug and alcohol abuse cases
Victims can also find more resources, such as reporting Title IX violations, on the Title IX & Campus SaVE Act page.
Vehicle Services
The Police Department employs Campus Service Officers and Public Safety Assistants who can assist you if your vehicle battery needs a jump start or if you lock your keys in your vehicle. Call Police Dispatch at (619) 482-6380 to request these services.
Prescription Drug Drop Box
The Southwestern College Police Department has partnered with the City of Chula Vista to provide a prescription drug drop box for our front lobby area. Old or expired prescription medication can be dropped off in the box for safe and responsible disposal.
Lost & Found
Found property is stored at the Southwestern College Police Department. Other Departments throughout the College may keep lost items for several days and then take them to the Police Department. Found property is logged, labeled, and an attempt to return items to the lawful owner is made. All items will be kept for 90 days and then disposed of if ownership cannot be determined.
Claiming Lost Property at the Chula Vista Campus
To inquire about lost property:
In person: At the SWCPD front office (Building 22) Monday-Friday 8a.m. to 5p.m.
By phone: call the SWCPD at (619)216-6611
The following information will be needed:
Name
Daytime phone number/email address
Description of lost item
When and where it was lost
Lost Property at a Higher Education Center (HEC)
Found property in Higher Education Centers is kept for 90 days and can be claimed at each campus' front counter. After 90 days, the items will be sent to the SWCPD to be disposed of. For lost items at a HEC campus, contact the HEC by phone at:
Otay Mesa: (619) 216-6750
San Ysidro: (619) 216-6790
National City: (619) 216-6665
Found Property
The SWCPD will accept found property Monday through Friday from 8a.m. to 5p.m., except on holidays.
Items Accepted into Lost and Found
The Southwestern College Police Department accepts most found property, to safeguard these items and return them to their lawful owner. The Police Department will not accept the following Items:
Items which would present a biohazard (including those with intense odor).
Toiletries/beauty products/personal grooming products (Including but not limited to makeup, used soap, toothpaste, lotions, face/body wash, loofahs, combs, brushes, bows, ribbons, scrunchies, etc.).
Worn/used clothing, shoes, or undergarments.
Water bottles, including Hydro Flasks, coffee mugs, travel mugs, food/liquid containers or dishes of any kind.
Towels, pillows, sheets, and linens.
Alcohol and flammable items (e-cigarettes/vape devices, etc.).
Perishable items/food.
Prescription/over the counter medication.
Yoga or exercise mats.
Nuisance property/trash (i.e., Paper with no information, hangers, broken items, items valued under $10 or with no apparent value).
Animals of any kind (Please contact the San Diego Humane Society at (619) 299-7012).
Contacting College Police
The College Police Department can be contacted via phone or in-person during operating hours.
Building 22
Chula Vista Campus
900 Otay Lakes Rd
Chula Vista, CA 91910