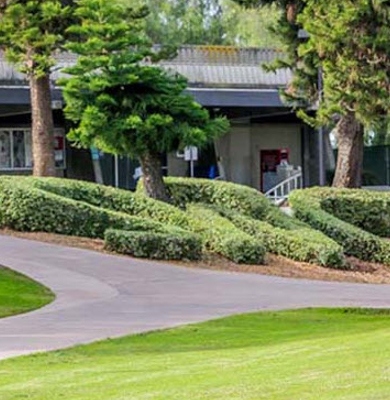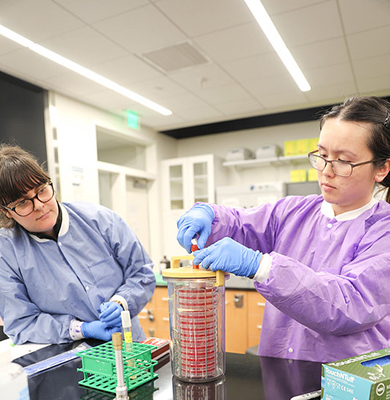 Search the classes we have available this term. Search Schedule.
CURRENT STUDENTS: If you attended classes during the most recent semester, you just need to review the schedule and sign up for the classes you need.
RETURNING STUDENTS: If you have missed one or more semesters, you will need to Re-Apply at CCC Apply Page before registering for classes.
NEW/FUTURE STUDENT: Never taken a class at Southwestern College? The first step is to apply at CCC Apply Page. You'll receive a welcome email with your student ID, email address within 48 hours and then you can begin registering for classes. Need help with the application process and everything you need to know about becoming a Jaguar, connect every Wednesday from 3-4 pm with our Outreach Student Ambassadors. Reserve your spot today by filling out the reservation form.
HIGH SCHOOL CONCURRENT ENROLLMENT STUDENT: You can earn college credit while taking Southwestern College classes on your campus through our California College and Career Access Pathways Program (CCAP program.) If you're in grades 9 through 12 you can also take classes at the Southwestern College campuses with the approval of a parent and high school principal/counselor as part of our High School Special program.
ADULT SCHOOL CONCURRENT ENROLLMENT STUDENT: The Adult Education Partnership Dual Enrollment Program covers tuition costs if you are currently enrolled in a high school diploma or GED program at a local adult school, regardless of your residency status (except for international students and students on B1/B2/tourist visas).
NON-CREDIT STUDENT: You can take classes–many of them free–to boost your career and job skills, find a new personal interest or continue life-long learning. Our Continuing Education division can help you.
How to Make a Counseling Appointment
Counselors hold group information sessions to help students select which classes to select and to plan your first semester at Southwestern College. For a list of upcoming workshops, go to the counselors' Eventbrite page.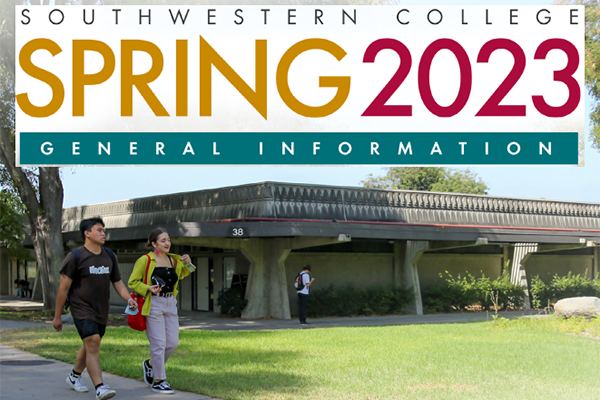 Spring Schedule Front Pages (PDF)
Important Dates - Spring 2023 Semester
January 30, 2023 to May 26, 2023
OCTOBER 31
Email registration information to students
NOVEMBER 7
NOVEMBER 17
DECEMBER 8
JANUARY 2
Residency determination date
JANUARY 16
HOLIDAY - Martin Luther King, Jr. Day
JANUARY 18
Nursing and Paramedics program begins
JANUARY 30
Spring 2023 Semester Begins
Textbooks and required class materials must be returned by the first week of Spring (see bookstore website)
FEBRUARY 10
Deadline to complete items below through WebAdvisor (online only)
Refunds—Last day to withdraw from classes and qualify for a full refund of enrollment fees and non-resident tuition.
Last day to drop without a "W" for full term classes
Last day to add classes. No late adds will be accepted. Deadline will be enforced.
Last day to get a refund for Student Activities Sticker
FEBRUARY 13
FEBRUARY 16
Last day to file a petition for Independent Study
Financial Aid Freeze Date
FEBRUARY 17 - FEBRUARY 20
HOLIDAY - Presidents Weekend
MARCH 1
Deadline to Petition for Spring 2022 Graduation
(Associate Degree for Transfer (ADT) petition deadline is February 1)
MARCH 10
Last day to file a petition for Credit by Examination
MARCH 27 - APRIL 2
SPRING BREAK (CAMPUS CLOSED)
MARCH 31
HOLIDAY - Cesar Chavez Day
APRIL 3
Second 8 week session begins
APRIL 28
Last day to withdraw from full-semester classes and receive a "W" grade
Last day to file a petition for Pass/No Pass (Subject to change at Chancellor's discretion)
MAY 12 - JUNE 2
MAY 20 - MAY 26
MAY 26
Last day of classes–end of Spring semester
MAY 29
JUNE 5
Final grades are due for all classes
Which Classes Should I Choose?
Whether you're a new student waiting to see a counselor, or a transfer student waiting for your official transcripts to come in, the SWC Catalog can help you plan your own schedule so you can register now, instead of waiting.
Math and English
Major requirements
General Education requirements.

There are three basic General Education patterns, and all three are spelled out in the Catalog:

CSU (e.g., San Diego State, Cal State Long Beach, etc.). If you are going to the Cal State system, you may want to give special attention to our "degree with a guarantee" program called ADT (or Associate Degree for Transfer).
IGETC (for CSU or UC schools: e.g., UC San Diego, UCLA. etc.)
Associate Degree (for those who will be transferring out of state or to private institutions, or not transferring)
If you're not sure which pattern you will choose, here is a link that lists all the current courses that appear in all 3 patterns!
Additional Information
Services & Programs