Extended Opportunity Programs & Services (EOPS/CARE)
Helping Those in Need to Succeed
Looking for extra support to help get you through school? Depending on your circumstances, you may be eligible for Extended Opportunity Programs and Services (EOPS). This program provides many services for low-income and disadvantaged students.
Our goal is to help provide accessible education to students who are less prone to attend college. We also understand that support means more than helping you in the classroom. EOPS can help you with everything from counseling to financial aid to tutoring — and more.
EOPS is a state-funded, special assistance program. You will need to apply for consideration. Read on for more information on eligibility requirements, what services are available, and how to chat with our EOPS staff.
Watch this short video to learn more about EOPS:
Cranium Cafe Chat
To connect with an EOPS staff member via Cranium Cafe Chat please click on the ENTER LOBBY. Our staff is available Monday, Wednesday and Thursday from 8:00am - 5:00pm; Tuesday from 8:00am - 6:30pm; and Friday from 8:00am - 3:00pm
Applying For EOPS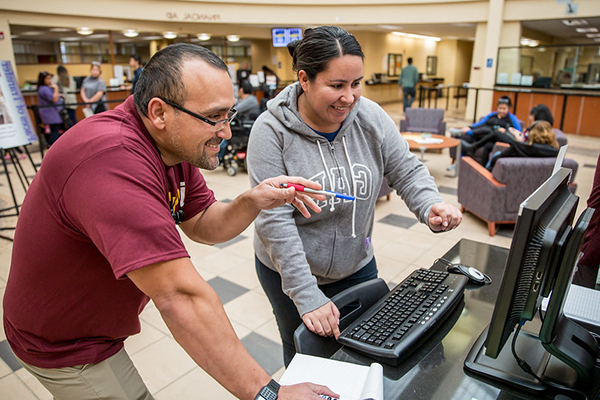 EOPS is accepting applications for the Spring 2022 semester from November 15, 2021, to February 11, 2022.
EOPS has limited spaces per semester, and they are filled on a first-come, first-served basis. Apply NOW!
To apply to EOPS visit our
EOPS Services
EOPS is designed to help students help achieve their academic goals, also knowing that this often requires assistance outside of the classroom. This can take the form of personal counseling, emergency loans, or workshops in personal development or study skills
• Enrollment priority
• Tutoring
• Transferring services to university
• Textbook/calculator lending
• Student educational plan (SEP)/progress reports
• Emergency loans
• Student employment
• Cap and gown for graduation
• Emergency loans
• Cultural enrichment activities
• Career and personal counseling
EOPS Eligibility
Currently, EOPS services are offered to students who meet all of the following criteria:
• Residents of California or be classified AB540
• Enrolled full-time (12 or more units) when accepted into the EOPS program (6 units if you have certification from DSS Office)
• Not have completed more than 58 degree-applicable units. This includes course work completed at all colleges previously attended
• Qualified to receive a California College Promise Grant (CCPG) A or B; AND
• Judged to be educationally disadvantaged.
How is educationally disadvantaged determined? (Must meet ONE of the following)
• No high school diploma or GED
• High school GPA less than 2.50
• Previously enrolled in basic skill courses
• Is first in the family to attend college
• Speaks a language other than English at home
EOPS also oversees additional programs that you may be eligible for:
CARE Program: The Cooperative Agencies Resources for Education (CARE) program is comprised solely of Extended Opportunity Programs and Services (EOPS) students who are also single parents receiving public assistance. Benefits include personal and academic counseling and grants.

Eligibility:

Single Parent
Have a child 18 years or younger
Have an open case number with the Department of Health and Human Services
If you would like to learn more about the CARE program, please contact Lynda Ware at lware@swccd.edu.
Fresh Success Program: Federally-funded, CalFresh Employment & Training program specifically aimed to support students pursuing a career education degree. Benefits include individual counseling/job readiness assistance, textbook assistance, and educational supply credit.

Eligibility:

Must be an EOPS student
Must be a resident of San Diego County
Must be eligible for CalFresh but not receiving CalWORKs
Must be registered in one or more of the following courses: ESL, Career Education, and Basic Skills.

Application Period:

Currently accepting applications from August 3rd thru September 10th. If you are interested in applying, please email Nora Rodriguez, EOPS/Fresh Success Technician at nrodriguez@swccd.edu.
Guardian Scholars Program: The Guardian Scholars Program is designed to support current and former foster youth whom are attending Southwestern College. Benefits include personal and academic counseling, access to on and off campus resources, grants, book service, and life skill workshops.

Eligibility:

Be a current or former foster youth and under the age of 26
Submit a complete GSP application and a copy of Ward of the Court documentation
If you would like to learn more about the Guardian Scholars Program, please contact Michelle Montano at mmontano@swccd.edu.
Cranium Cafe Chat
To connect with an EOPS staff member via Cranium Cafe Chat please click on the ENTER LOBBY. Our staff is available Monday, Wednesday and Thursday from 8:00am - 5:00pm; Tuesday from 8:00am - 6:30pm; and Friday from 8:00am - 3:00pm
Get In Touch
Building 66
900 Otay Lakes Rd
Chula Vista, CA 91910
Monday - Thursday
8:00am - 6:30pm
Friday
8:00am - 3:00pm
Weekends & Holidays
Closed