WebAdvisor is Retiring!
After 20 years of faithfully serving the students, staff, and faculty of Southwestern College, WebAdvisor is ready to hand over its responsibilities to the next generation of web systems! To learn about the timeline and milestones of this project, follow the button link below.
Coming Soon - New & Improved MySWC Portal
The Office of Institutional Technology will soon bring you a new and improved experience: MySWC Portal in the Cloud! Follow the button link below to learn more about this much needed upgrade and the enhancements we will all experience as a result.
What is SSO?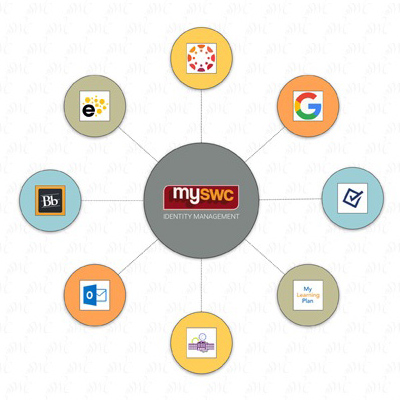 SSO is short for Single Sign-On. It is an authentication process that allows a user to access multiple applications with one set of login credentials. So basically, what that means is, with your MySWC identity management account, you are able to login to numerous secure apps and websites with the same username and password! For example, MySWC is now being used with Canvas, and CCC Apply Administration, with more coming soon! What's really great about SSO is the ability to sign in once and launch multiple applications with just one click.
For technical information about SSO, visit the Wikipedia SSO page.
SSO Tutorial Video
Watch to learn more about SSO at SWC.
SSO Frequently Asked Questions