A photo of a drone flying in the air, with a compact camera attached to the bottom of the drone
DRONE TECHNOLOGY & APPLICATIONS
Quick Description
Small Unmanned Aircraft Systems (UAS), or drones, have revolutionized the way spatial data is collected and payloads are delivered. Today, drones are being used in a number of fields, including surveying, mapping, environmental biology, construction, photography, videography, fire science, precision agriculture, criminology, real estate, marketing, defense, remote sensing, geology, landscape technology and management, search and rescue, first responders, and other disciplines. Southwestern College's certificate programs offer pathways for students from a variety of disiplines to be trained in drone technology and applications.
Learn More. Earn More.
The Drone Technology and Applications Certificate program will prepare students to become remote pilots or entrepreneurs in fields that currently deploy small Unmanned Aircraft Systems (sUAS). These fields include (but are not limited to) environmental science and management, real estate, journalism, precision agriculture, disaster response and management, fire science, maintenance and operations, law enforcement and public safety, photography and videography, mapping and surveying, remote sensing, and cultural resource management. This program will provide students with skills in sUAS operations, prepare students to pass the FAA Part 107 license exam, and provide the fundamental skills necessary to join the sUAS industry or to plan, create, and develop an sUAS based business.
Students successfully completing the Southwestern College program in Drone Technology and Applications, will be able to:
Learn the Federal Aviation Administration (FAA) rules and regulations that govern safe and responsible sUAS operations (including airspace).
Describe basic flight operations for multi-rotor and fixed-wing sUAS aircraft.
Capture still imagery and videos with an sUAS.
Discuss the many applications of sUAS operations.
Use different sensors attached to the drone (including thermal infrared, near infrared, red edge, and visible) in order to complete a variety of sUAS projects (including mapping and inspection missions).
Complete both autonomous and manual drone data collection projects.
Use a variety of apps and image processing software to plan and complete sUAS missions.
Perform post-processing techniques on collected imagery and videos.
Have the knowledge to pass the FAA Part 107 License exam.
Discuss the social, ethical, economic, and legal implications of sUAS operations.
Research what it takes to successfully launch and operate a new venture in sUAS operations.
Southwestern College at Night

Taken with a DJI Mavic 2 Pro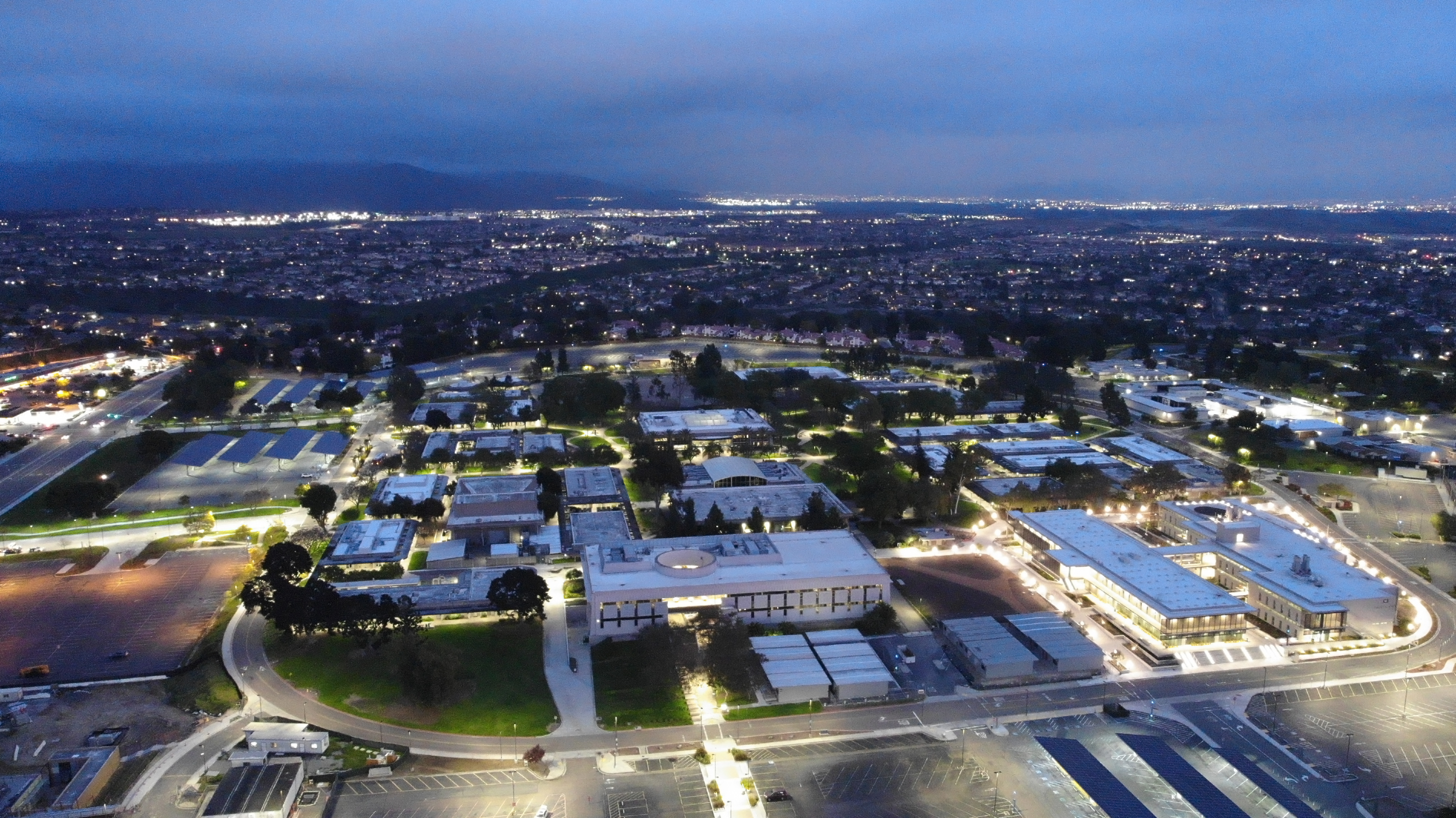 Certificates Offered
Certificate of Achievement in Drone Technology and Applications: The Drone Technology and Applications Certificate program will prepare students to become remote pilots or entrepreneurs in fields that currently deploy small Unmanned Aircraft Systems (sUAS). This program will provide students with skills in sUAS operations as well as the knowledge necessary to plan, create, and develop an sUAS based business.
Certificate of Proficiency in Drone Technology and Applications: The Drone Technology and Applications Certificate of Proficiency program will introduce students to how drones are being applied in their specific field of study. This program will provide students with skills in sUAS operations specific to their chosen field of study.Noncredit Certificates and Courses
Noncredit Certificates and Courses: The Drone Technology and Applications Certificate of Completion non-credit program will introduce students to how drones are being applied across a variety of fields, including but not limited to: real estate, journalism, search and rescue, agriculture, disaster response, law enforcement, photography and videography, mapping and surveying, remote sensing, and fire science. This two-course program will provide students with the knowledge to pass the Federal Aviation Administration (FAA) Part 107 license exam, as well as provide training in sUAS operations and data collection. NC327 REMOTE PILOT GROUND SCHOOL and NC328 INTRODUCTION TO DRONE TECHNOLOGY AND APPLICATIONS
Cesar Chavez Building
Career Center Counseling Appointment
Get help choosing your classes, developing your Student Education Plan (SEP), or polishing your resume
Current Catalog
Get the specifics