Veterans' Resource Center (VRC)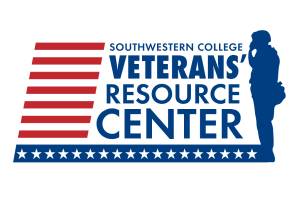 Opened in Spring 2014, and moved and enlarged during Summer 2019, this beautiful center is a result of the hard work, passion and dedication of many student veterans, faculty and staff members and a symbol of the commitment Southwestern College has made to support the success of student veterans.
The VRC is pleased to offer a variety of services to support the success of our student Veterans and others using Veterans' benefits as they pursue their academic and career goals.
Virtual Chat
We are here to support each of our student's needs. Chat live on Cranium Café by finding an online staff member below. To learn more, visit the Virtual Welcome Center. Our student service specialists have their hours of availability listed on their profile cards. If a team member's hours are not reflective of their availability, they are likely supporting another student. We give each of our students the individual attention and time they deserve. Thank you for your patience.
Video chat with Veteran Services on Cranium Cafe
Veterans' Resource Center Navigation
Offers a variety of services to support the success of our student Veterans
Forms, GI Bill® info, and more
Student Veteran Handbook (PDF)
Get In Touch
Contact us if you need help or have questions.
Our VRC Coordinator is John "JD" White, USMC Retired.
jwhite2@swccd.edu
Room 18A-101
(Front of campus, near bus dropoffs)
900 Otay Lakes Rd
Chula Vista, CA 91910
Monday - Thursday
9:00am - 6:00pm
Friday
8:00am - 1:00pm (Closed on Fridays through 8/9/19)
Saturday - Sunday
Closed
Note: Closed on legal and campus holidays
GI Bill® is a registered trademark of the US Department of Veterans Affairs (VA). More information about education benefits offered by VA is available at the official U.S. government website.