Southwestern College Promise
Free Tuition Your First Two Years
If you are a high school graduate, enrolling college for the first time and meet the eligibility criteria below, you may qualify for free tuition for your first two years at Southwestern College.
Eligibility Criteria
Be a First-Time/ Full-Time (FT/FT) college student. (First-Time students have not previously attended a college or university. Students who take courses for the first time during the preceding summer session or while enrolled in high school are still considered first-time).
Not be eligible for the California College Promise Grant (CCPG). If you are awarded a CCPG, you are not eligible for the SWC Promise.
Apply to attend SWC College for the fall and spring semesters and commit to enrolling in 12 units or more each semester and register for those units or more by the full-semester add/drop deadline each semester. Students who do not enroll in 12 units in the fall semester WILL NOT be eligible for the SWC Priomise in the spring term.
Effective January 2020, DSPS students enrolled in less than full time (12+ units) may be eligible for the SWC Promise. IMPORTANT: student must provide documentation from DSPS regarding enrollment level. This regulation does NOT apply to any enrollment or eligibility prior to the Spring 2020 semester.
Be a resident of the state of California for tuition purposes (or be AB 540 eligible).
Must file the Free Application for Federal Student Aid (FAFSA) or a California Dream Act Application (CADAA).
Application
The 2019-2020 online application is closed, but you can still submit the paper application through April 30, 2020. Please complete the Southwestern College Promise application and submit it to the Financial Aid office at the Cesar Chavez Center or at the Student Services Counter at the Higher Education Centers.
The 2020-2021 SWC Promise Application (online and paper) will be available on this webpage by March 1, 2020.
Support Services for Your Success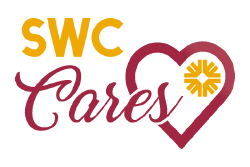 Southwestern College offers a variety of services, including child care, the Jag Kitchen food pantry, learning communities, such as First-Year Experience (FYE), Umoja, Bayan and Puente, and the PowerStudy Program, which embeds tutors in certain classes. You can find out more information at the SWC Cares webpage.
Frequently Asked Questions (FAQs)