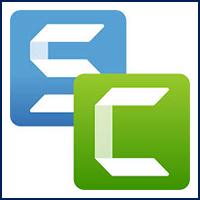 Snagit
Snagit is a screenshot program that captures video display and audio output. Originally for the Microsoft Windows operating systems, recent versions have also been available for Mac OS, but with fewer features. It is created and distributed by TechSmith, and was first launched in 1990.
Camtasia
Camtasia is a video-based screen capturing software program. It is analogous to using a video camera to record your screen. However, unlike using a video camera, the software is installed on your computer, so your screen captures are directly recorded to a digital video format with higher quality audio.
Licenses & Downloads
All current faculty and staff are eligible to download licensed versions of both Snagit and Camtasia. Instructions for getting licenses and downloading the apps is available in the Work at Home Apps section of ServiceNow (MySWC Login required).