SWC Email is provided to all staff and faculty members as an effective way to communicate with colleagues, students, and others in an efficient manner. By using SWC Email offered by Southwestern Community College District, you agree to the 3720 AP (Computer & Network Acceptable Use Policy).
Moving to the Cloud
Migrating Mailboxes to SWC Outlook Email in the Cloud
June 7, 2021 at 7am
To improve our security, availability, and access to email, the Office of Institutional Technology will begin moving mailboxes to the cloud on June 7, 2021. This migration only applies to SWC Outlook Email accounts that belong to currently-employed staff and faculty, offices, and distribution lists. Student email accounts and other non-Outlook accounts are not included in the migration.
We have been preparing your mailboxes for this move for almost 2 years now. We've trimmed them down by automatically deleting email older than 5 years and we've removed old, unused mailboxes.
We are doing our very best to make it as painless, seamless and as quick as possible. However, there will be some unavoidable and unforeseen inconveniences as we move through the migration.
Priorities of our plan include:
Moving whole offices, employees, general office mailbox shares, associated conference rooms, and anything else related, at the same time in order to minimize disruption.
Moving faculty in the middle of the summer rather than the beginning or the end, which would run up against either the beginning of Summer or beginning of Fall.
We'll be conducting these moves overnight, rather than during the day.
You'll receive instructions for updating your portable devices so you'll be able to reconnect right away.
IMPORTANT: SWC Student Email is not affected by this migration - only Outlook email!
Outages & Challenges Expected
Please be aware that we are expecting outages and challenges during the migration process! We will try to make the move as painless as possible for you, but it will not be as smooth as you (and we) would like.
The accordions below contain expected pain points (UPDATED July 12, 2021):
As new challenges are discovered, we will be sure to update this page with current information.
Use of Email on MySWC
We need you to get familiar with and start using the "SWC Outlook Email" box on the MySWC Portal (see images below) because, while your mailbox is being moved, you will most likely not be able to use the Outlook desktop or mobile phone apps. It's also possible your mailbox will require special attention after it has migrated.
Before your mailbox is migrated to "SWC Outlook Email in the Cloud," you can check and send email by using the updated version of the "SWC Outlook Email" box shown below: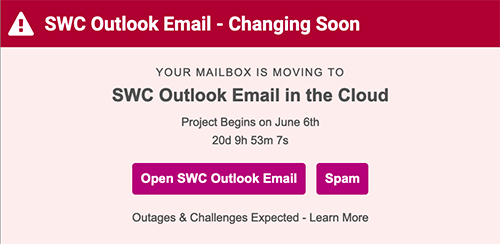 After your mailbox is migrated and continuing until the project ends, you can read and send email by using the "SWC Outlook Email in the Cloud" shown below: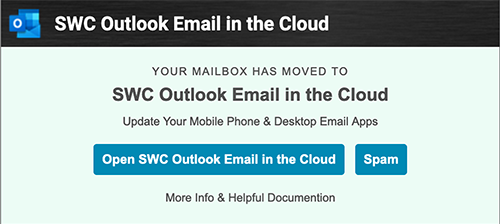 Clicking the "Open" button will give you a Microsoft login box where you will need to re-enter your MySWC username and password. This is only temporary! Once all mailboxes have been moved and the project is complete, clicking the button will once again automatically sign you in with MySWC SSO.
Frequent Questions & Answers
The accordions below contain common questions and answers relating to SWC Outlook Email in the Cloud migration.